Our top takeaways from the World Agri-Tech Virtual Innovation Summit
This week several of the Chaseman Global team attended the World Agri-Tech Virtual Innovation Summit. The event provided an crucial opportunity for the global AgTech network to meet, carry out focused discussions, attend interactive panel discussions and for industry leaders to share critical intelligence about how this industry will emerge from the current crisis.
The whole event was kicked off with an insightful panel discussion addressing how COVID-19 will accelerate change in the agri-food industry. The session was chaired by Valerio Nannini, board member for Future Food Institute who did an excellent job of directing the conversation between the talented panel of industry leaders, as well as addressing questions from delegates.
In this panel Mark Thompson, Chief Corporate Development & Strategy Officer for Nutrien, discussed how COVID-19 had tested the agri-food system and raised questions for food security, but at the same time the pandemic allowed us to recognise how resilient the ecosystem is and how farmers can and do adapt to a new supply chain.
On the same panel Hans Johr, Corporate Head of Agriculture at Nestle, shared his belief that the young talent within agriculture is who we need to adopt new technologies and push forward sustainable practices across the industry. He claimed that we need to look to them as the next generation of farmers and ensure we are communicating directly with them to address the challenges of the industry.
This led us into two fantastic days of discussion, innovation and celebration. With so many topics addressed it's hard to pick out individual takeaways to share with you however here are two key points that we felt should be highlighted from the event:
Sustainability and the role Agri-Tech has on the future of our planet
Something that was discussed often was the responsibility we have for our planet and the role that Agri-Tech must play when it comes to the overall environmental impact of agriculture. From deforestation to irrigation, pollutants to soil degradation we all know that the growth of food demands, and therefore agriculture, in the last hundred years has had devastating effects on the planet to date. A change has to be made in the way we farm for us to make this industry a sustainable one.
At the centre of this discussion is farmers. How we educate growers on a global level and give them access to the best tools to make the sustainable decision? Farmers are intrinsic to the climate solution. We need to make sure we're engaging and supporting farmers in this environmental revolution. Both Kelloggs and Pepsi's sustainability leaders agreed that Agri-Tech is crucial to providing farmers with nature-based solutions that will drive this change.
Walter Rabb, former CEO of Whole Foods, addressed, in his panel discussion, how the three key topics at the top of an investor's mind right now is the social, governance and environmental impact of every investment opportunity. Therefore with investment also leaning towards technologies that drive an environmental agenda we, as an industry, simply need the determination to implement the incredible innovation emerging every day.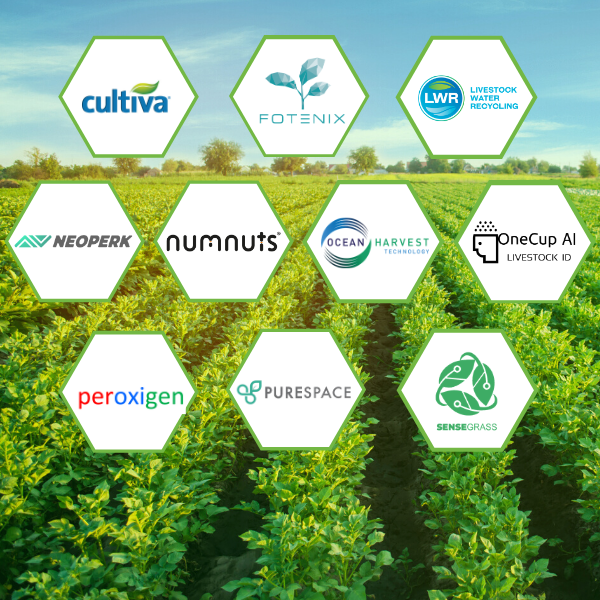 Celebrating Innovation in AgriTech
There is incredible innovation happening every day in this sector and COVID hasn't slowed it down at all. At the World Agri Tech Virtual Innovation Summit the Tesco Agri-T Jam Finalists were announced. These are businesses that have developed technology so innovative that it has caught the eye of the UK's leading retailer and their supply chain on how to enhance what they do.
World Agri-Tech Innovation Finalists
The finalists are shared below:
Cultiva (USA) has developed a proprietary technology, Parka, designed to supplement the cuticle of the plant. By enhancing the plant's membrane stability, it reduces crop losses associated with environmental extremes that have become more prevalent with climate change, including fruit cracking and sunburn.
FOTENIX (UK) combines cameras with machine learning to monitor crop status, such as disease, in real-time. Its key technology is three-dimensional multispectral imaging which allows laboratory analysis at economic cost. A FOTENIX-enabled sprayer or harvester provides the next step of data-driven farming to producers, whilst the cloud platform ensures agronomic insights that compound with each use.
Livestock Water Recycling (Canada) has a patented on-farm water treatment PLANT and myPLANT data dashboard, that creates value for food producers by digitizing the waste outputs from animal agriculture to reduce expenses and the environmental impact of food production.
Neoperk Technologies (India) is developing a rapid soil testing technology, a combination of hardware and software which scans the soil sample using opto-electronic sensors and uses machine learning models to determine the soil nutrient status and its requirements. The portable device tests the on-field soil for macronutrients such as nitrogen, phosphorus, potassium, pH and soil organic carbon and gives crop-specific fertilizer management recommendations in less than five minutes.
Ocean Harvest Technology (UK) is a functional animal feed ingredient company leading in the prebiotic space for production and companion animals. It has developed a range of prebiotics by blending together seaweeds from around the world, each of which contain different soluble fibres. By combining the latest microbiome assay methods with performance testing, it has shown that its prebiotics can enhance performance in dairy, poultry, and swine applications.
OneCup AI (Canada) is bringing state-of-the-art computer vision to the livestock industry. The cornerstone of its technology is 360 Live ID – effectively face recognition for cattle from any angle. Using a revolutionary approach, it takes human-level intelligence and embeds it into a machine learning pipeline – creating an AI ranch hand with super-human 24×7 monitoring abilities.
Peroxigen (UK) has developed a range of pipefittings that incorporate a novel electrolytic cell that generates ozone in the water flow. As the ozone is a powerful and fast-acting disinfectant, it destroys all pathogens in the water supply. These generic pipefittings are robust, reliable, simple and safe, typically operating at 24VDC.
PureSpace (South Korea) has developed a new mechanism based on nanotechnology that can effectively and sustainably decompose organic compounds such as ethylene gas, mould and bacteria. If applied in the cold chain for the fresh food industry, the shelf-life of fresh food can be systematically increased, thus reducing post-harvest losses.
Senesino (Scotland) has introduced Numnuts, a product that provides lambs with the best start in life, giving welfare focused consumers, retailers, and sheep farmers an ethical and sustainable approach to castration and de-tailing. It is an easy-to-use product that provides targeted pain relief for 'marking' of lambs with the standard rubber ring.
Sensegrass (France) is a soil intelligence platform that helps companies and farmers to reduce excessive nitrogen and fertilizers in the soil using a patented NPK sensor that detects, measures and analyses soil nutrients in real-time. Its AI Agronomist optimizes the crop and soil data to help users grow more sustainably, using nitrogen at the right time, in the right place, in the right quantity.
We can't wait to see the impact these new businesses will have and the waves they might be making very soon across the industry; we hope that soon we'll be working with them to find some of the top talent to help drive this change.
For more information about the World Agri-Tech Innovation Virtual Summit visit https://worldagritechinnovation.com/